text k videu
Rodina počká nebo nepočká?
Jejich životy byly do určité doby úplně normální až obyčejné. Starali se o děti, vydělávali, platili hypotéky. Pak ale přišlo uvěznění blízkého člověka. Příběhy čtyř rodin, které se musely vyrovnat s takovou situací, přibližuje snímek Rodina počká dokumentaristy Petra Mikšíčka. Jednoduché to v životě nemá mnoho rodin. Některé však bojují i s obrovským studem a nedostatkem peněz, protože mají "někoho" ve vězení. Jak se s takovým osudem žije, si mohou udělat představu lidé právě prostřednictvím zmíněného dokumentu.

"Jednou z neziskových organizací, která jim pomáhá, je občanské sdružení Za branou. Pořádá pro ně takzvané svépomocné skupiny, kde se setkávají členové rodin stigmatizovaných tím, že mají ve vězení blízkého člověka. Ti lidé se za to stydí a jejich situace je fatální jak ze sociálního, tak ekonomického hlediska," říká dokumentarista Petr Mikšíček.

Nezřídka sebere vězení rodinám jejich živitele a zbylí členové stojí před problémem, jak řešithypotéku, dluhy a jak vůbec přežít. Čtyři takové příběhy se odehrávají i v Mikšíčkově snímku. S výběrem rodin mu pomohl předseda občanského sdružení Za branou Jan Frank. Protože s těmito rodinami pracuje řadu měsíců, natáčení už jim problém nedělalo.

"Spolupráce s nimi byla skvělá, byli hodně otevření. Mohou teď pomoci lidem v podobné situaci, kteří se o ní bojí mluvit. Zároveň mění obrázek, který si o nich společnost udělá. Nezaslouží si, abychom na ně hleděli skrz prsty, ale abychom jim pomohli," říká dokumentarista.

Právě na rodinách odsouzených podle něj nejvíc záleží, kdy a zda se jejich blízký vrátí z vězení jako lepší člověk, nebo naopak recidivista. Stejně tak na nich závisí, zda mu pomohou dostat se v polovině trestu zpátky domů. Dokument přinese třeba příběh vězně z Plzeňska, který skončil za mřížemi borské káznice kvůli majetkové trestné činnosti. Jeho manželka se přitom ocitla sama s hypotékou a dvěma malými dětmi.

Dalším z nich je příběh babičky, jejíž dcera sedí ve vězení za vraždu a rovněž po ní zůstaly dvě malé děti. Dva roky přitom trvalo, než na ně babičce přiřkli příspěvky. Do té dobymuselavyžít se dvěma tisíci korunami a v domácnosti jich bylo pět.

Jedním z příběhů je osud malíře a neplatiče alimentů Miloše Čekana. "Dostal čtyři a půl roku. Ve vězení namaloval spoustu obrazů, které pak jeho žena prodávala, aby přilepšila rodinnému rozpočtu a pomohla vybudovat ve věznici Kynšperk nad Ohři malířský ateliér" vypráví Petr Mikšíček.

Tvůrci dokumentu zjistili, že uvěznění blízkého člověka zasáhlo řadu lidí. V současné době je v České republice šest tisíc trestanců a trestankyň, což se týká minimálně patnácti tisíc jejich blízkých. Za posledních deset let jich může být klidně 200 tisíc. "Rádi bychom dokumentem pomohli i k tomu, aby lokální svépomocné skupiny pro rodiny odsouzených vznikly v krajských a větších městech republiky," přeje si Petr Mikšíček.

"Je to v podstatě bezrozpočtový snímek, který jsme dělali všichni zadarmo. Práce mě hodně bavila, protože jde o dokument, který má velkou sociální sílu," říká. Film vznikal od prosince 2012 do konce loňského roku. Co říkají sami tvůrci dokumentu

• Rodiny vězňů se často dozví o uvěznění svých blízkých náhle a musejí se rychle adaptovat na novou situaci. Většinou matky s dětmi zažívají nejtěžší situaci ve svém životě a ze začátku si vůbec neuvědomují, že nejenže musí tuto tíživou situaci zvládnout a uživit se, ale většinou pouze na nich záleží, jestli se z vězení jejich manžel, syn, dcera vrátí jako lepší člověk nebo jako nenapravitelný kriminálník. Tím, kdo nese tíhu trestu za vězně a blízké, je právě nejbližší rodina.

• Film odhaluje některé systémové nedostatky v praxi trestání neplatičů alimentů, řidičů bez řidičáku, ale také závažnějších delikventů. Příběhy mapují činnost sdružení Za branou, které pomáhá rodinám odsouzených na jejich cestě skrze tíživou sociální situaci k úspěšnému 'koučování' izolovaných vězňů ve věznicích bez ohledu na výši trestu a typ provinění.


x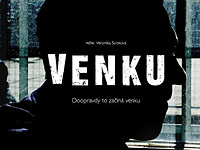 Příběh tří lidí, dvou mužů a jedné ženy, kteří se ocitli na životní křižovatce. Dva z nich během filmu odchází z výkonu trestu, třetí ukončí výkon trestu až v závěru a během celého filmu rozebírá svoje pocity a prožívá svůj život ve věznici. Režisérka Veronika Sobková nechtěla zachytit fungování věznice, ale osobní život hlavních protagonistů.
Proč se Kajínek stal nejslavnějším českým vězněm? Proč jeho příběh fascinuje i ty, kteří většinou zločince odsuzují? Čím je jiný než ostatní? Odpověď přináší exkluzivní dokument obsahující nová fakta a dosud nepublikované záběry.