text k videu
Joe Crowley's (the presenter's) filming diary... For me and friends of my age, Mad Cow Disease seems like a distant nightmare - something that haunted us on the news as we grew up. But this Inside Out programme has made me think again and, sadly, given the disease a painful new relevance. It's about a young guy like me, starting out on a career in the media, when he was struck down by the human form of the disease. And it's a story of his mother's (Christine Lord) relentless search for answers, as she tries to find out who killed her son (Andrew Black).

Further informarion on variant CJD Inside Out looks at the rise of Variant CJD, the symptoms and the support available for those caring for or mourning the loss of loved ones from the disease.

Variant CJD
Variant CJD is a form of transmissible dementia and differs from other forms of CJD. It has received a lot of media attention over recent years, but has been around for much longer.

Early 1920s CJD is first recognised by two German neurologists Creuzfeldt and Jakob, the namesakes of the disease. Following decades It is a rare disease with an estimated UK occurrence of 30-50 cases per year.
Dec 1984 Cow number 133 on Stent farm Sussex becomes the first confirmed victim of BSE the animal strain of CJD.
Feb 1985 Cow 133 dies.
Nov 1986 BSE is first formally identified by the Central Veterinary Laboratory.
April 1988 The Government establishes the Southwood committee to look into BSE. It concludes that BSE is probably spread in animal feed.
May 1990 Chief Medical Officer says beef is safe to eat.
July 1993 100,000th case of BSE in Britain.
May 1995 First death from Variant CJD.
March 1996 Government announces suspected link between BSE and the human equivalent CJD . The EU announces worldwide export ban on all British beef.
March 1998 A public inquiry into the origin and spread of BSE and CJD opens in London.
Jan 2000 Claire Mcvey, age 15, dies of Variant CJD.
August 2002 92 deaths in Britain to date from definite Variant CJD . 22 deaths from probable Variant CJD.

Symptoms
Although symptoms are diverse across patients, a number of similarities have been found when sufferers' brain were examined under a microscope. According to the Crentzfelt-Jakob Support Network, most had lost nerve cells in the brain leading to a spongy appearance.There are many symptoms of Variant CJD, which can broadly be split into two categories...
Physical symptoms:

Unsteadiness on feet
Development of uncontrollable jerky movements
Progressive stiffness of the limbs
Incontinence

Mental symptoms:

The progressive loss of mental abilities
Mood swings
Loss of awareness of surroundings
The incubation period for the disease is years rather than weeks or months.
Therefore, the symptoms get progressively worse over time.

Medicine
According to the Crentzfelt-Jakob Support Network, most people with CJD die within six months. But in about 10 per cent of cases it can last between two and five years. At present, there is no known cure for CJD despite considerable, ongoing research. There are some medicines which make the last few weeks easier for sufferers.
x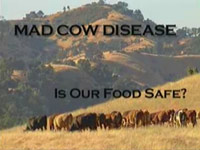 Před lety byl v Evropě, ale i ve světě problém s vážným onemocněním dobytka, který se mohl promítnout i na člověka. Přestože je toto onemocnění relativně pod kontrolou, v principu je vhodné o ní něco vědět. Dokumenty o této
nemoci
.
Howard Lyman has brought the issue of the dangers of eating beef to light like never before. A former cattle rancher-turned-vegetarian and food safety activist, in 1996 Lyman revealed to a national television audience how the cattle industry potentially exposed Americans to "Mad Cow" disease by feeding cows the remains of animals - including other cows. As a result of his remarks, Lyman was named a co-defendant with Oprah Winfrey in the infamous libel case brought by Texas cattlemen.