x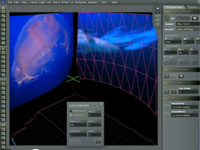 VizualPV3D is a
Flash Visualization Application
that provides a GUI interface to create and manipulate objects in 3D scenes using
Papervision3D
.
VizualPV3D was originally created by JUXT Sr. ActionScripter, Gary Stasiuk, to help produce the Adobe Brilliant site. Over the past few months Gary has invested a great deal of time and passion into evolving this labor of love so he can share it with the world.
This version of VizualPV3D is a public release alpha with many of the planned features complete or at a stage where they can be used and/or tested by Flash users. Several new and extended features are in the queue for addition to the application in the next few months.
Gary will be presenting VizualPV3D at FTIC Tuesday April 28, 2009 at 10:50am to 11:50am, in his session: The Road to "Brilliant".